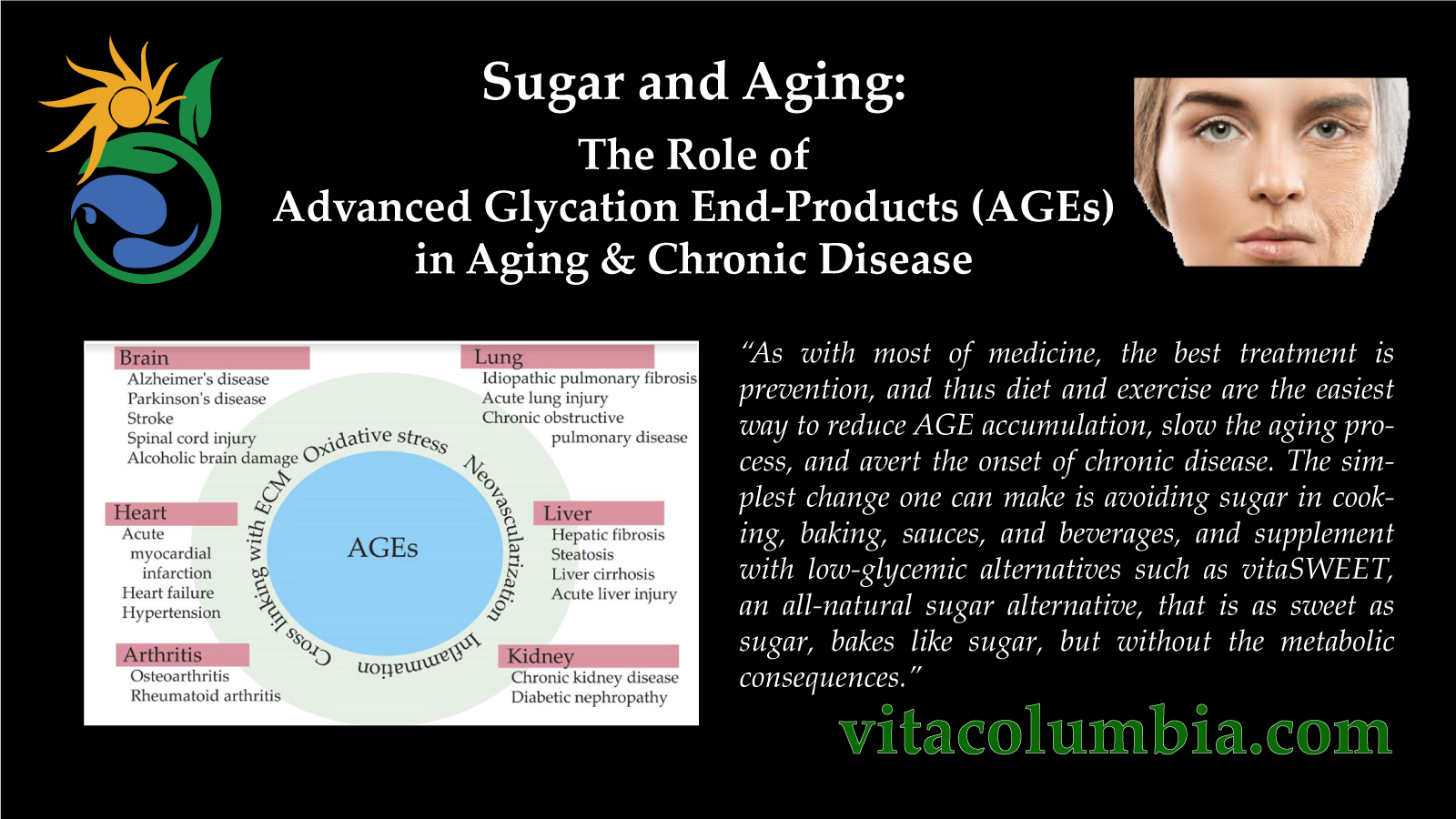 Sugar and Aging: The Role of Advanced Glycation End-Products (AGEs) in Aging & Chronic Disease

Aging is the result of progressive physiologic changes which occur until senescence, due to a decline in biochemical functions and capacity to adapt to metabolic stress. The abnormal accumulation of biological waste plays a significant role in organ or tissues functional deterioration as we age.
Advanced Glycation End-Products (AGEs) are a complex group of compounds consisting of proteins, lipids, or DNA which undergo glycation when exposed to sugars. The human body lacks enzymes to eliminate glycated products, which progressively accumulate as metabolic waste during aging. The glycation reaction results in impaired protein function and reduced elasticity of tissues such as blood vessels, skin, and tendons.
Hyperglycemia vastly accelerates the glycation process, with AGE accumulation playing a significant role in the microvascular and macrovascular damage associated with diabetes mellitus. In addition to diabetes, many other chronic diseases such as atherosclerosis, chronic kidney disease, rheumatoid arthritis, Alzheimer's disease, Parkinson's disease, vascular dementia, cataracts, other degenerative ophthalmic diseases, and many other diseases are associated with the accumulation of AGEs in tissues. Furthermore, there is significant evidence that AGEs contribute to sarcopenia and the loss of bone density and muscle mass associated with aging.
Cooking or consuming sugars with fats or proteins results in the most significant generation of AGEs. A study using a mouse model, given an AGE-rich diet for 16 weeks resulted in a 53% increase in serum AGE levels. Currently there is considerable interest in discovering potential inhibitors of AGE formation or agents that may disintegrate and eliminate AGEs. Of the several AGE inhibitors and breakers discovered including aminoguanidine, N-phenacylthiazolium bromide, and alagabrium, none are in clinical use due to safety concerns. Recently, interest in herbal products has been rising, some of which have similar or even stronger anti-AGE than synthetic drugs, with a much more favorable safety profile. Flavanoids, a class of polyphenols, including kaempferol, genistein, guercitrin, quercetin, and epicatechin appear to have potent anti-glycation properties, and are currently the most promising pharmaceutical approach to manage AGE accumulation.
As with most of medicine, the best treatment is prevention, and thus diet and exercise are the easiest way to reduce AGE accumulation, slow the aging process, and avert the onset of chronic disease. The simplest change one can make is avoiding sugar in cooking, baking, sauces, and beverages, and supplement with low-glycemic alternatives such as vitaSWEET, an all-natural sugar alternative, that is as sweet as sugar, bakes like sugar, but without the metabolic consequences.
References:
Harman D. The aging process. Proc Natl Acad Sci U S A.1981; 78: 7124-8.
Gladyshev VN. On the cause of aging and control of lifespan: heterogeneity leads to inevitable damage accumulation, causing aging; control of damage composition and rate of accumulation define lifespan. Bioessays. 2012; 34: 925-9.
Bengmark, S. Impact of nutrition on ageing and disease. Curr. Opin. Clin. Nutr. Metab. Care 2006; 9,2-7.
Nguyen HP, Katta R. Sugar Sag: Glycation and the Role of Diet in Aging Skin. Skin Therapy Lett. 2015; 20:1-5
Suji G, Sivakami S. Glucose, glycation and aging. Biogerontology. 2004; 5: 365-73.
Brownlee M. Advanced protein glycosylation in diabetes and aging. Annu Rev Med. 1995; 46: 223-34.
Jakus, V., Rietbrock, N. Advanced glycation end-products and the progress of diabetic vascular complications. Physiol. Res. 2004; 53, 131-142.
Shuvaev, V.V., Laffont, I., Serot, J.M., Fujii,J., Taniguchi, N., Siest,G. Increased protein glycation in cerebrospinal fluid of Alzheimer's disease. Neurobiol. Aging 2001; 22,397-402.
Odetti, P., Rossi, S., Monacelli, F., Poggi, A., Cirnigliaro, M., Federici, M., Federici, A. Advanced glycation end products and bone loss during aging. Ann. N.Y. Acad. Sci. 2005; 1043,710-717.
Pageon H, Zucchi H, Rousset F, Monnier VM, Asselineau D. Skin aging by glycation: lessons from the reconstructed skin model. Clin Chem Lab Med. 2014; 52: 169-74.
Stopper H, Schinzel R, Sebekova K, Heidland A. Genotoxicity of advanced glycation end products in mammalian cells. Cancer Lett. 2003; 190: 151-6.
Kim, C.S., Park, S., Kim, J. The role of glycation in the pathogenesis of aging and its prevention through herbal products and physical exercise. J Exerc Nutrition Biochem. 2017; 21(3): 055-061.
Brownlee M, Vlassara H, Kooney A, Ulrich P, Cerami A. Aminoguanidine prevents diabetes-induced arterial wall protein cross-linking. Science. 1986; 232: 1629-32.
Xie Y, Chen X. Structures required of polyphenols for inhib-iting advanced glycation end products formation. Curr Drug Metab. 2013; 14: 414-31.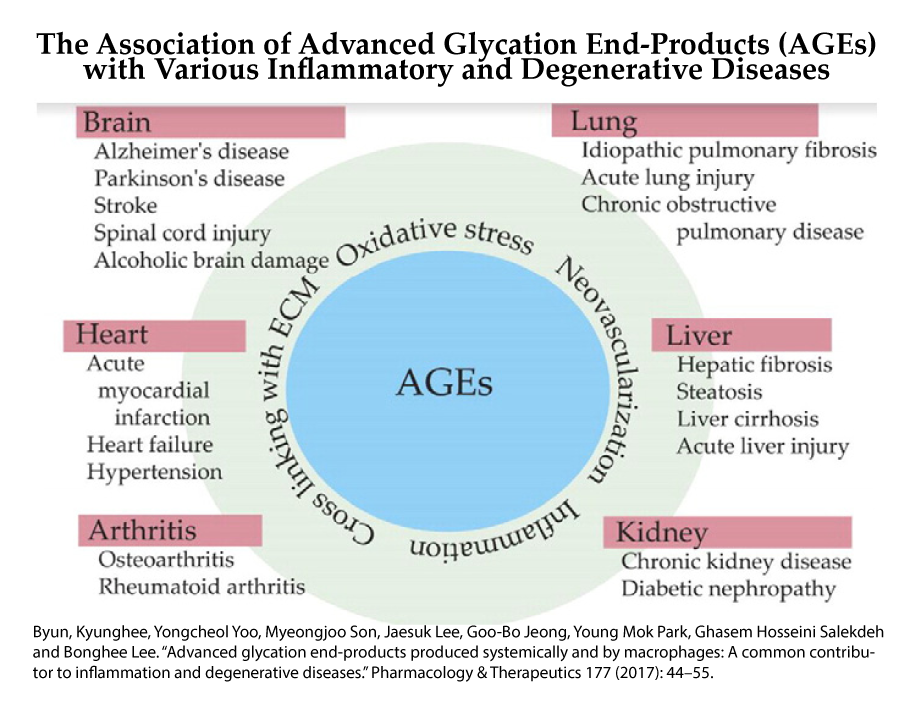 "As with most of medicine, the best treatment is prevention, and thus diet and exercise are the easiest way to reduce AGE accumulation, slow the aging process, and avert the onset of chronic disease. The simplest change one can make is avoiding sugar in cooking, baking, sauces, and beverages, and supplement with low-glycemic alternatives such as vitaSWEET, an all-natural sugar alternative, that is as sweet as sugar, bakes like sugar, but without the metabolic consequences."