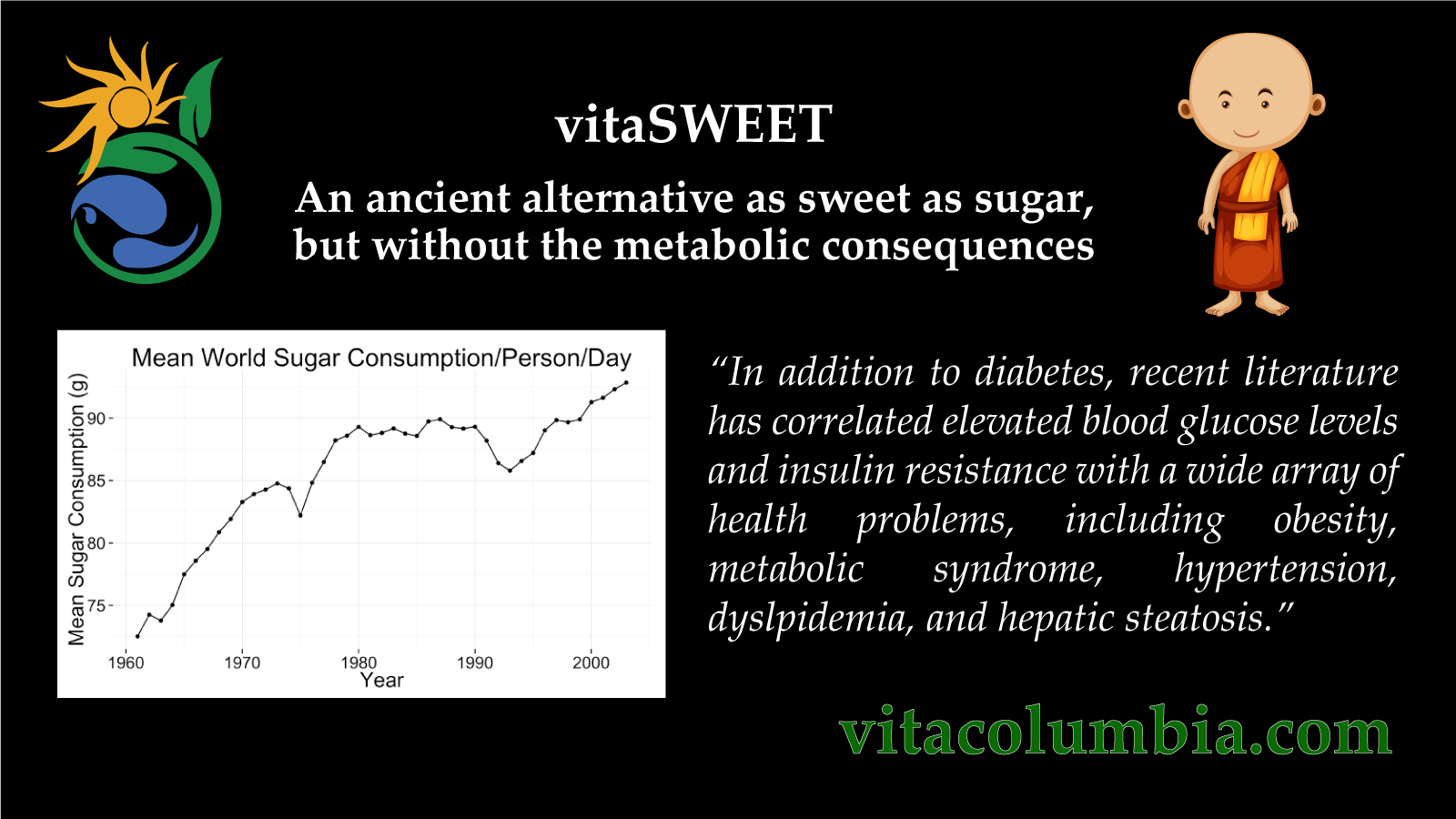 vitaSWEET – an ancient alternative as sweet as sugar, but without the metabolic consequences
Much of illness afflicting modern society can be attributed to changes in eating patterns. In the past 160 years the amount of sugar consumed by society has exploded, attributed to the mechanization of sugar production. This trend is not limited to the developed world, but has impacted almost every country on the planet. Sugar is not only found in obvious foods such as deserts, it has also become a hidden ingredient in many foods available on the market today. In recent years, financial incentives have driven companies such as Pepsi and Coca Cola to replace sugar with sugar with high-fructose corn syrup in certain products, such as soft drinks and processed foods.
Both sugar and high-fructose corn syrup are very high on the glycemic index, meaning that they cause blood glucose levels to rise rapidly. This shocks the body, which responds by releasing massive amounts of insulin to drive the excess sugar into the cells of the body. Over time, a constant elevation of blood glucose and insulin levels, leads to a the development of insulin resistance, a compensatory response in which the cells remove insulin receptors from their membrane. The subsequent effect is an even greater amount of insulin required to return blood glucose levels to normal amounts. Eventually this leads to the development of diabetes mellitus.
In addition to diabetes, recent literature has correlated elevated blood glucose levels and insulin resistance with a wide array of health problems, including obesity, metabolic syndrome, hypertension, dyslpidemia, and hepatic steatosis. Furthermore, a high baseline insulin level is also highly inflammatory and can worsen autoimmune conditions such as arthritis, inflammatory bowel disease, multiple sclerosis, and vasculitis.
vitaSWEET is a natural alternative to table sugar and high fructose corn syrup, that is 0 on the glycemic index, meaning that it has no effect on blood glucose levels.
vitaSWEET is formulated with two simple ingredients: monk fruit and erythritol. Monk fruit or luo han guo is native to southern China and northern Thailand, and has almost 300 times natural sweetness than that of sugar. It has been used for centuries in traditional Chinese medicine, first mentioned in the records of 14th century Chinese monks. Erythritol is a naturally occurring sugar alcohol derived from fruits and plants. Vita Columbia's unique blend of both monk fruit and erythritol is as sweet as sugar and can be used as a 1-to-1 replacement in recipes.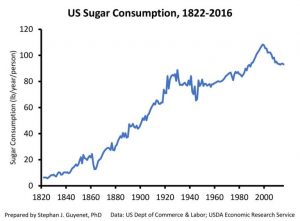 United States Sugar Consumption, 1822-2016
"In addition to diabetes, recent literature has correlated elevated blood glucose levels and insulin resistance with a wide array of health problems, including obesity, metabolic syndrome, hypertension, dyslpidemia, and hepatic steatosis."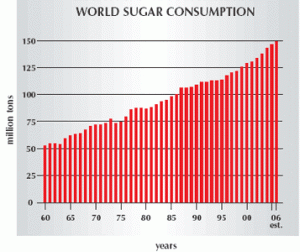 World Sugar Consumption 1960 – 2006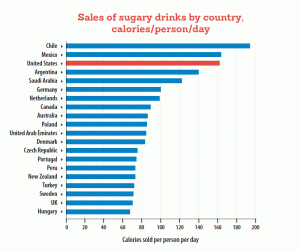 Sales of sugary drinks by country
---